Spray Foam Insulation in Buffalo, NY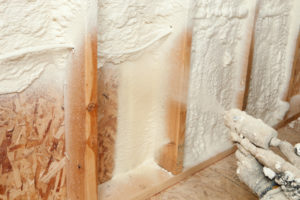 If you need a spray foam insulation company in Buffalo or a surrounding western New York area, Town Building Systems is ready to help.
Whether you want to insulate your home or building, spray foam insulation is a great option when stopping air infiltration is critical. Spray foam can be easily installed in hard-to-reach areas and may be recommended for wall, crawl space or attic insulation.
Need to insulate with spray foam? Call Town Building Systems today at 716-525-8910 or contact us online.

Spray Foam Insulation Installation
Commonly made of polyurethane, spray foam insulation is applied wet and expands into a thick foam that fits snugly in wall cavities, crevices and gaps. This means it can be used to cover uneven spacing between floor joists and around piping, wiring and ductwork.
Spray foam insulation is also extremely energy-efficient.
Benefits of Spray Foam Insulation
There are many benefits to this type of insulation. Spray foam helps:
Make homes and buildings more comfortable year-round
Provide soundproofing
Improve the performance of HVAC equipment
Protect against air and moisture infiltration
Contribute to a healthier environment
Spray foam can also act as an air-sealing solution. It's used in many different areas of the home and is ideal for:
Existing enclosed walls
Open new wall cavities
Unfinished attic floors
Call 716-525-8910 to learn more about our spray foam insulation services in Buffalo or start your project.
Spray Foam vs. Other Insulation Materials: How Do They Compare?
Spray foam is typically more costly than other types of insulation, such as fiberglass and cellulose, and its installation is complex.
Spray foam, however, offers several advantages in a single product. For example, noise reduction (open-cell) and moisture protection (closed-cell). Spray foam can also fill small, irregular spaces well for excellent air sealing (especially closed-cell foam).
However, there are other insulation options to achieve similar goals. Blown-in insulation is good for filling irregular spaces but works best for larger areas. Moisture resistance can be achieved by using a vapor barrier, and rockwool insulation can reduce noise.
Fiberglass batts may be the simplest to install, provided there's easy access to the areas where it will be used. It's a relatively inexpensive type of insulation. That said, fiberglass is not moisture-resistant (without a barrier), requires more space to be effective and can settle over time.
Contact Town Building Systems online or call 716-525-8910 today to learn more about all types of insulation.
Pros & Cons of Spray Foam Insulation
Pros include:
Stays in place for decades if properly installed and maintains R-value
Offers noise control
Moisture-resistant to protect your home from water damage and mold
Excellent air sealant, thus lowering energy bills and keeping out airborne contaminants like pollen
Strengthens walls and roof
Cons include:
Higher cost than other types of installed insulation
Emits gas while curing (drying), and improper foam mixture could cause off-gassing long term
Minor gaps in coverage during installation can lead to water damage and air leakage later
Experienced, professional installation required due to complexity
Let us help you decide which type of insulation to use in various parts of your home. Contact us online or call 716-525-8910 today.
Differences Between Open- and Closed-Cell Foam Insulation
Both open- and closed-cell spray foam consist of small bubbles known as cells. Open-cell foam is softer and more flexible than the closed-cell version.
Closed-cell foam consists of cells pressed tightly together so no moisture or air can enter. This makes closed-cell foam denser and more rigid and stable than open-cell foam.
Contact the insulation specialists at Town Building Systems online or call 716-525-8910 today.
Spray Foam FAQs
Can I DIY spray foam installation?
Proper installation is key to getting all the benefits of spray foam insulation. To install spray foam correctly, specialized spray equipment and experience are necessary. It would be more expensive for homeowners to rent equipment, and operating it without experience raises safety concerns. (Crawling around out-of-the-way parts of your home is dangerous, too.)
Spray foam goes on wet and expands, so proper mixture of the insulation material as it's applied is crucial for performance and long-term durability. For this complex insulation project, leave it to your trusted insulation contractors near Rochester or Buffalo in western New York.
Is spray foam insulation worth it?
Spray foam offers many benefits in addition to thermal insulation. Beyond making your home more comfortable and energy-efficient all year, spray foam offers sound-dampening and protection from moisture penetration and absorption, as well as providing air-sealing.
This makes it ideal for basements and crawl spaces where moisture might otherwise seep into your home, risking structural damage, insect infestation and mold. You could use spray foam in areas where it's most needed and consider other options for additional areas of your house or building.
Consult with your insulation contractor to determine the best strategy for your home.
What's the R-value of 2 inches of spray foam?
Open-cell spray foam (approximately R-3.7 per inch) provides R-7.4 for 2 inches. Closed-cell spray foam (up to R-6.5 per inch) provides up to R-13 for 2 inches.
Call 716-525-8910 or contact us online for expert insulation services today.
Buffalo-Area Spray Foam Installers
If you're in the western New York area and you're thinking about spray foam installation for your home or building, Town Building Systems is here to help. As a part of the Installed Building Products Family of Companies, Town Building Systems offers knowledge, experience and resources few local companies can match.
Contact our professionals to learn more about our insulation services. If you're ready to start your project, call 716-525-8910.

OUR REVIEWS
They were quick, efficient and very easy to talk to. These guys deserve a raise. Awesome job!!
Joseph M.
They were very professional about the job and made sure that everything that I wanted done was done they did some great work, and I would highly recommend them. They also cleaned up very well after they were finished ...
Gregory L.
Outstanding people, outstanding customer service! I highly recommend Town for any job or service that you need!
Wendy S.
SEE ALL REVIEWS